SHOWROOM NEWS
The Rug Company Launches Blot & Brush Collection
The Rug Company has launched 'Blot & Brush', a new in-house collection consisting of five rugs inspired by Abstract Expressionism.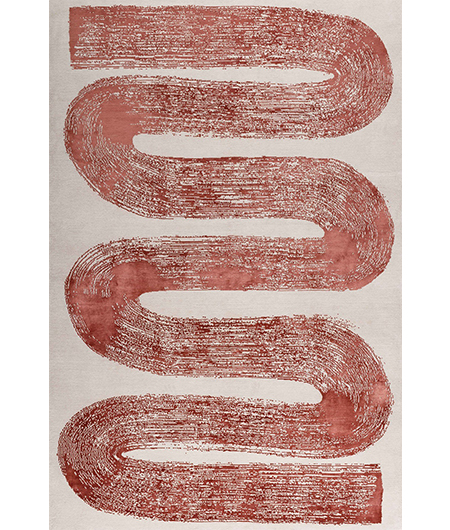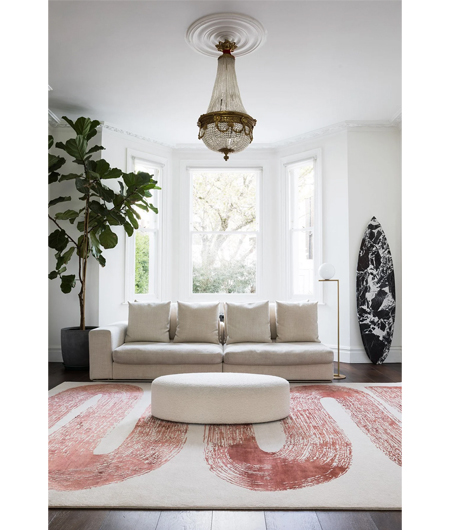 Founded on the belief that art should materialize from the unconscious mind, this movement was in part pioneered by 'action painters', who would attack the canvas with emotional brush strokes.
Each rug in the collection has been christened after an iconic New York landmark, paying homage to experimental painters who inspired the radical art scene named 'New York School'. Breaking with convention, Ramble is composed in an earthy terracotta hue that emanates a warm, soft energy. The fluid motif consumes both the rug and viewer, as the calming streak glides down, looping as it meets the perimeter. Inspired by the meandering paths in Central Park, this design features a sense of fluidity but is also met by a certain start and end, leaving no space for continuation. Highlighted in lustrous silk to accentuate the condensed movement, while offering a nod to a glistening stream caught in sunlight.
A balance of chaos and control, Inkwell explores the use of unconventional material and technique, much like Pollock. Abstract markings cascade this design, as streams of ink gather into pools and are met by escaping drips that create a continuous, but broken flow. The inky opaque motif is crafted in navy silk and set against a pure wool background, allowing the lustre to shine as it converses with the neutral tone. Cedar depicts the raw emotion and expression found in the movement. Featuring wide overlapping strokes, the grey motif is light and almost speckled, suggestive of paper being torn and damaged. Considered the heart of the movement, The Cedar Bar in New York was a hub for these creatives to meet and pollinate ideas.
Like its namesake, Cedar depicts a chaotic energy, while providing a space for the raw unconscious mind to express itself. The blue and grey tones are crafted entirely in wool, highlighting the layered illusion and distressed effect.
In one indulgent stroke, Hudson debuts the collection's unrestrained personality. Crafted on a wool base, the motif has been woven entirely in silk, appearing to drift and fade as if a brush has gently traversed the rug. While elements of the design appear dense with a compilation of dark tones, the casual flicks give the impression of a light touch, depicting the spray of tumbling waves. This impression of velocity is inspired by the movement of the Hudson River and its transformation from a calm flow into powerful waterfalls.
Featuring bold, dynamic brushstrokes, Ellis examines the visceral energy released by action painters. Wide unidirectional sweeps of grey hues cross and bleed into each other, suggesting a chaotic, but freeing release. Named after Ellis Island, which accepted millions of immigrants over 100 years ago, symbolising a pursuit of freedom. Crafted on a wool base, the impactful motif is woven in a fusion of wool and silk to create a delicate layered effect.
Each rug is meticulously handknotted from exceptional wool and silk by The Rug Company's master craftpeople in Kathmandu, Nepal.