SHOWROOM NEWS
JD Staron Launches Collection with Very Gay Paint
The new collection of rugs designed in collaboration with Nicholas Scheppard and Jenson Titus, the talented LA-based couple and comedic duo behind Very Gay Paint.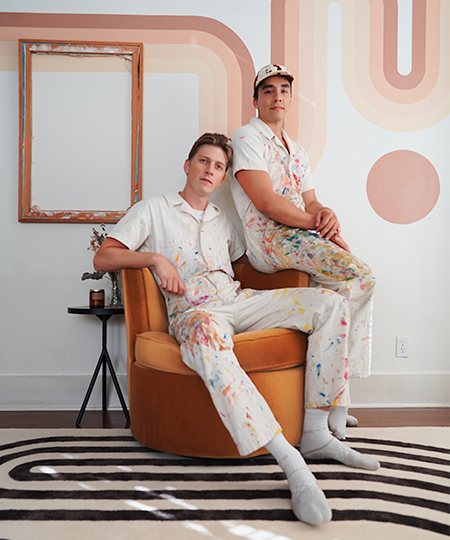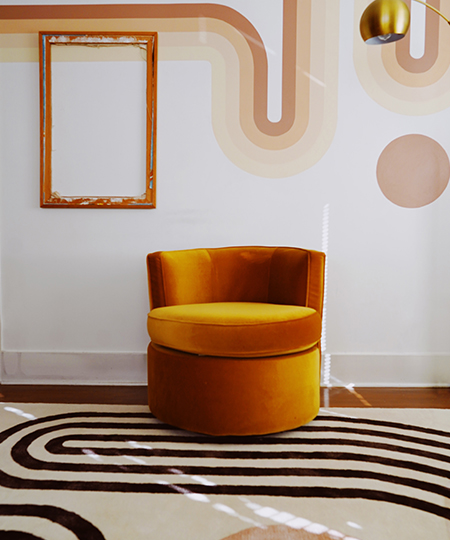 At the start of the pandemic, comedians Jenson and Nicholas found themselves, unable to go out and perform, sitting in their LA apartment and, like so many of us, staring at white walls.
The two decided to liven things up, despite never having picked up a brush, they painted themselves a retro-mod mural… Friends saw the mural and asked if they could paint one for them… and then friends of friends… next thing they know they're painting for small businesses, for designers like Kelly Wearstler, for celebrities like Jason Mraz, they go viral and brand themselves as Very Gay Paint with a stated mission of turning your walls gay. Their brand and murals are playful and energetic, lighthearted— and, of course, Very Gay.
JD Staron thought their designs would make fabulous rugs. The team fell in love with their uniquely Very Gay aesthetic: their designs, deftly combining retro motifs, geometric shapes, bold sweeping lines, and landscapes, manage to be both clean and playful—so with JD Staron's technical expertise and vision, they translated them into a beautiful collection of rugs that are sure to bring color, levity, playfulness and unbridled joy into any setting.
The Collaboration contains two parts for JD Staron and Very Gay Paint.
The first part consists of four designs, named for the hairstyles of famous female gay icons: Farrah (Fawcett), Rachel (from Friends), Tina (Turner), and Wintour (Anna). This series is hand-tufted in New Zealand Wool with blended wool and tencel accents and available to consumers in a limited number of standard colors and sizes through the Very Gay Paint website.
The second part of the partnership consists of six additional designs (Judy, Amy, Grace, Betty, Elizabeth, and Suze) which are be sampled in Hand-Knotted Wool and Silk and will be made-to order, fully customizable, and offered exclusively to the trade through JD Staron's U.S. showrooms.
Check out the collaboration at JD Staron on the 5th Floor of 200 Lex in Suite 510.